Daily Life + Wisdom
Surrendering to where I felt God nudging me, and getting myself into Divine Alignment, has re-awakened old passions and started to break down a lot of the walls I've created around my soul over the last few decades.
I recently wrote a little series on the big 'D' Desires that I believe God plants in our souls and that show up at the most interesting times to bloom and blossom in the most interesting ways. (Part 1, Part 2, and Part 3 – now you can see ALL the pretty.) They rarely make […]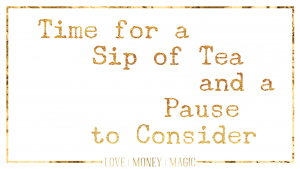 Today, I wanted to take this special day to share a bit about why I have chosen to become a believer. I promise I'll keep it short (y'know, -ish). (mist off the water this Christmas morning) I've worked with many clients who believed that the Universe was against them or that God hated them. Or that God was […]
In Part 1, we looked at Divine Discontent and what happens when we ignore our Big 'D' Desires. Often, it leads to depression, anxiety, and this constant feeling of missing… something. Something important. Essential, even. Something our soul needs. I shared how I'd had the realization that, once again, I was living in a house that […]
Do you ever have those moments where it 'just seems all wrong'? Where you're stopped dead in your tracks in the middle of the day with the gobsmacking realization that this-cannot-continue-for-one-more-minute? I'm pretty sure it's not just me that has those… and it is true that I seem to have them more than a lot […]
We're going to do something a little different today. I woke with the deep desire to speak to your heart instead of your head. To do that, I asked the Divine to give a little love. And, of course, being Divine, there's an abundance of over-delivering. I love that. Enjoy this snippet of our chat […]
On Monday… after a very long day, I had a chat with my Unconscious Mind (UM) about my struggle to live the writer's life… Me: I'm not getting the writing done that I know I need to be getting done. UM: Ooh! How about we wake up a couple of hours earlier in the morning […]
As the days grow shorter and the night seem darker, may you find peace and stillness and be with the light.