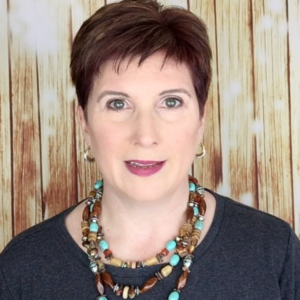 "Build your business
with the end in mind."

Vanessa Long

No matter where you are in your business, you have two choices:
You can continue to drown in the day-to-day details and grind, knowing that so much more is possible but never seeing it happen, or
You can get up and out of the day-to-day and work strategically on your business to create the future that you've dreamed about.
The only time to build the life and business of your dreams is now and Vanessa is passionate about working with entrepreneurs to see it happen sooner rather than later.
One of the first Canadian-trained NLP (neuro-linguistic programming) Trainers, Vanessa applies the most powerful communication tools and her Engineering and Ecology 'systems' brain to take a unique look at you and your business.
Starting with you, the Owner, Vanessa digs down and brings out the very best that you have to give. Getting you clear on your Mission (through her proprietary Discovering Your Passionate Purpose™ process) and the Value that your company brings to the marketplace will re-ignite your fires to do something amazing in, and for, the world.
An advocate for those with no voice for most of her adult life, Vanessa has been involved with environmental and social justice causes since University. She was a member of the York Region Children Aid's Society Board and in 2011 and 2015 she ran in the federal elections as the Green Party Candidate in Newmarket-Aurora. She is a supporter of Amnesty International and the Council of Canadians and is an active supporter of poverty-reduction and anti-racism programs.
A strong believer in the power of business owners coming together to support each other, Vanessa was a long-time member of both the Business Women's Networking Association (BWNA) and PRO. Since moving to Moncton in 2017 to live in her home by the sea, she has focused on serving her international clientele and building an online presence and network.
Vanessa specializes in working with closely-held businesses up to $15 million, guiding the Owner into systems that take operations and staff out of 'chaos management' mode and into smooth and predictable processes that allow the Owner to step back from the daily operations, take a vacation (real vacation!), and create a work-life balance that they didn't believe was possible. Fast.
Vanessa's Certifications and Education
(Because sometimes we need to know ALL the details.)
Traditional Education, Complementary Health,
Yoga, and Personal Training
1996 – Bachelor of Applied Science – Chemical Engineering – Queen's University
1996 – Bachelor of Science – Biology – Queen's University
1997 – Reflexology Certification, Holt School of Healing
2001 – American Council on Exercise (ACE) – Certified Personal Trainer
2001 – Certification on Resist-A-Ball Education (C.O.R.E.)
2001 – Canadian Physical Activity, Fitness, and Lifestyle Appraisal (CPAFLA)

Certified Fitness Consultant (CFC)

2002 – WaterArt Fundamentals
2002 – Canadian Fitness Professional (CANFITPRO)

Certified Nutrition and Wellness Specialist

2002 – Body Training Systems – BodyFlow Instructor
2004 – Licensed Level I Excelerator Lifestyle Coach
2007 – Yoga Exercise Specialist, East to West Yoga
2007 – Sound Healing Practitioner with Tom Kenyon
2009 – Sacred Archetypes Consultant (CMED) with Caroline Myss
NLP, Full-Time Coaching, and Business Building
2011 – American Board of Neuro-Linguistic Programming (ABNLP)

Board Approved NLP Trainer and Master Coach
Board Approved Training Institute for NLP

2011 – Time Line Therapy® Association (TLTA)

Board Approved Time Line Therapy® Master Practitioner

2011 – American Board of Hypnotherapy (ABH)

Board Approved Clinical Hypnotherapy Master Practitioner and Trainer
Board Approved Master Hypnotist
Board Approved Training Institute for Hypnotherapy

2012 – Speak to Sell Bootcamp with Lisa Sasevich
2012 – Magnetize Your Audience with Callan Rush
2013 – Platinum Program Secrets with Elizabeth Purvis
2013 – The Secret Energy of Money with Kendall Summerhawk
2013 – Reiki Level 1 with Karen Armstrong, Inside-Out
2014 – Income 180 Inner Circle with Nancy Roberts and Chris Kenney
2014 – DISC Behavioural Profile Training with Nancy Roberts
2014 – The Glory School with Patricia King
2014 – Gottman Couple Therapy Level 1
2014 – Reiki Level 2 with Karen Armstrong, Inside-Out
2014 – Irresistible Online Messenger with Vrinda Normand
2015 – Live & Luxurious with Gina DeVee
2015 – Time Line Therapy® Association (TLTA)

Board Approved Trainer of Time Line Therapy ® Techniques

2015 – American Board of NLP Coaching Division

Board Approved Trainer NLP Coaching

2016 – Goddess Business School® with Elizabeth Purvis
2017 – Sacred Money Archetypes™ Consultant with Kendall SummerHawk
Exit Planning for Established Business Owners
Who Want Their Life Back
2017 – International Business Brokers Association (IBBA)

Introduction to Business Brokerage

2017 – Business Enterprise Institute (BEI)

Exit Planning Fundamentals: Boot Camp for Advisors

2018 – Success Principles Trainer with Jack Canfield
Gene Keys and Human Design,
The Blueprint for Your Life
2020 – Gene Keys Activation Sequence with Richard Rudd
2020 – Gene Keys Venus Sequence with Richard Rudd
2021 – Gene Keys Pearl Sequence with Richard Rudd
2021 – Discovering Your Passionate Purpose by Vanessa Long published
2021 – Gene Keys Guide Certification with Richard Rudd
2022 – Up-Level Your Business and Chart Reading Mastery with Randi Lee
2022 – Quantum Money with Karen Curry Parker
2022 – Quantum Alignment System with Karen Curry Parker
2022 – Money Matrix and Human Design for Business with Taylor Eaton
2022 – Human Design Gates Bootcamp with Katie Irvine
2022 – Codes to Cash, Marketing Blueprint, Money By Design, and Financial Freedom Framework with Eden Carpenter
2022 – Uhhuh Uhuh The Program for Gens and Mani Gens with Christy Avis